CUSTOMER SALES
This module is the most used module by all front end users such as customer service, POS operation and daily sales operation.
This page covers most basic and important features and function of mostly customer related function and features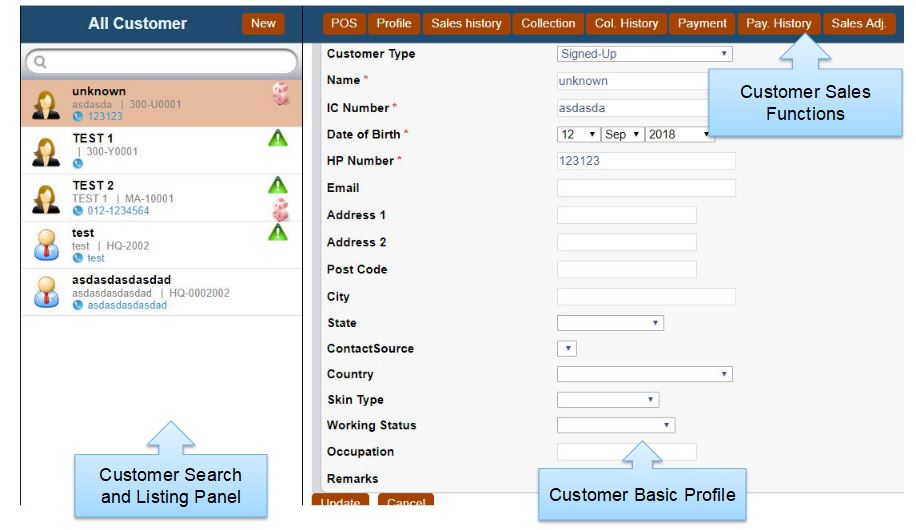 CUSTOMER SALES MODULE
Customer sales module are the most widely used module in CRM /POS

Customer searching by IC No., Name, card no and Mobile no.

Customer sales functions can give related information regarding the selected customer

The customer profile can be further configured to enable more data entry field
CUSTOMER ADVANCE SEARCH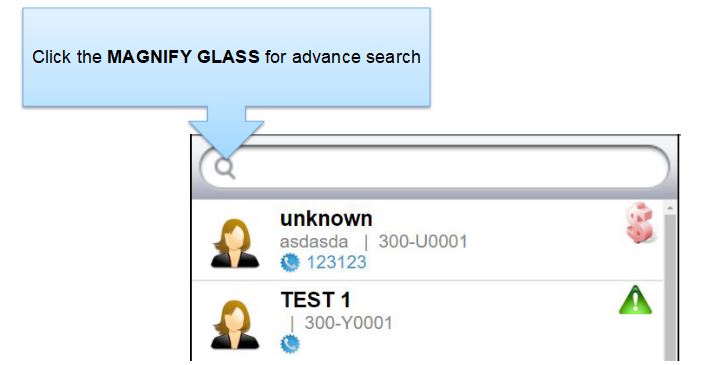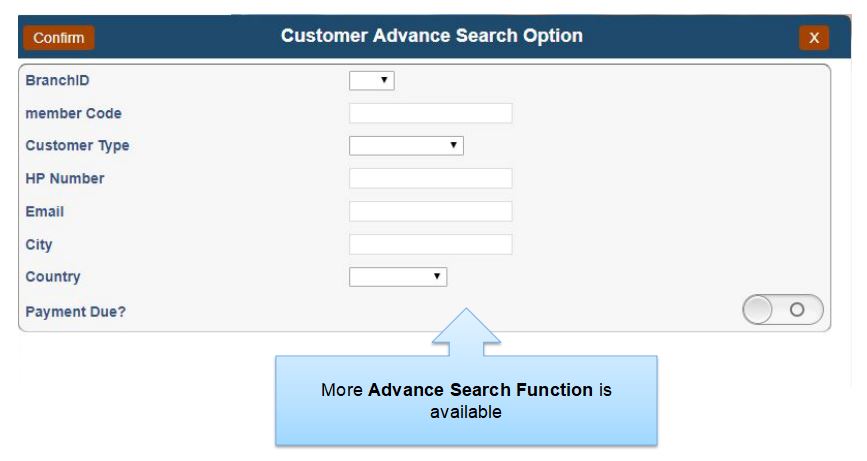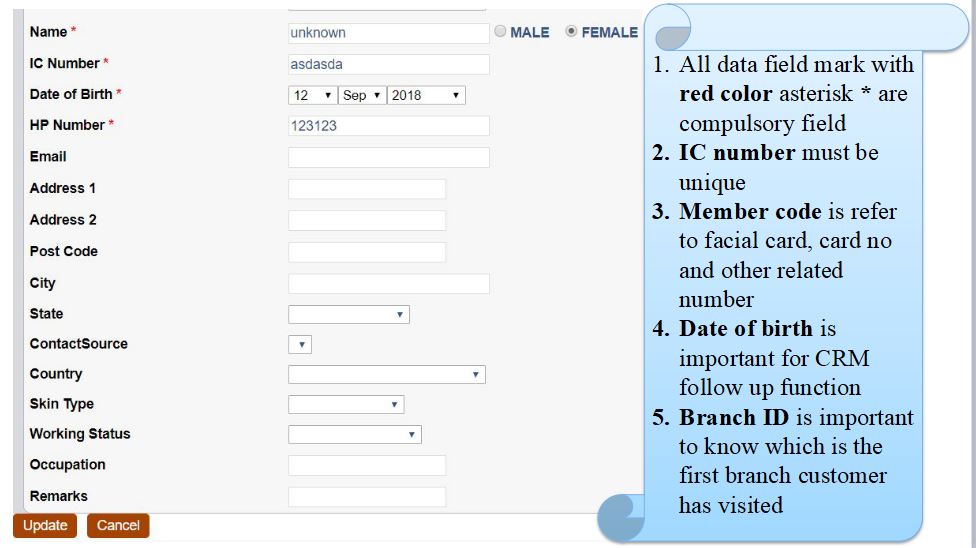 All customer data in CRM/POS is shared and crossed referred by multiple branches. Customer who signs up any package can redeem at any outlet without the need to transfer any hardcopy or information. All information is a real-time transaction
CUSTOMER SALES – SALES HISTORY

Sales history under customer sales is a simple sales invoice header listing

Each sales header can be further drill down by clicking on the sales header

Sales history contains all the overview information

In future version release, the sales history will be available in more analytical and more filter format
CUSTOMER SALES – POS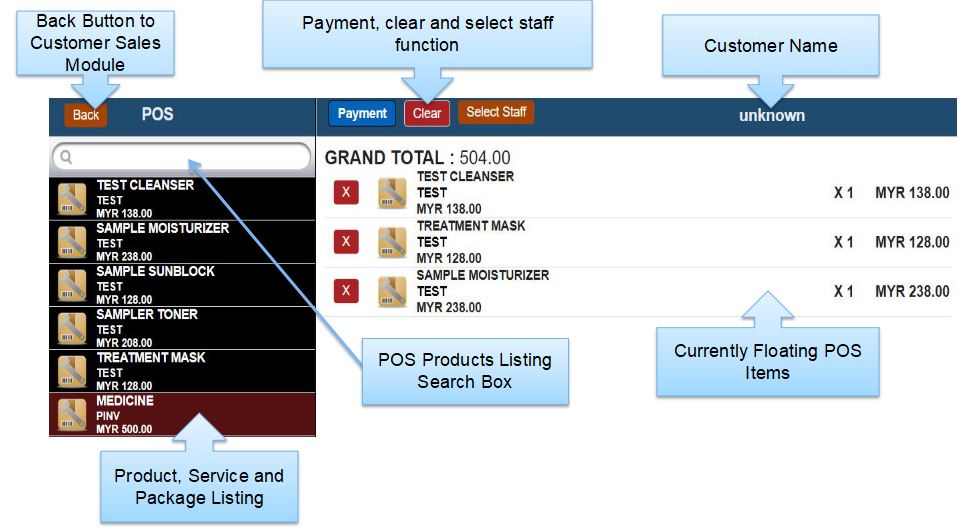 POS interface in CRM is a straightforward interface. All interface is tablet friendly and viewable on Google chrome and safari

Users can search any product using description, selling price and grouping on the left panel. Click any product, service or package as signified by the icons

The POS module is very responsible for any devices with a good internet connection

Items have been clicked on left panel will appear straight away on right panel

Only package and custom package has additional pop up interface

After select sales item click payment button located on the top of the interface besides customer name to select sales staff

Click payment and select payment method and payment amount then click confirm to finalize sales transaction
CUSTOMER SALES – PACKAGE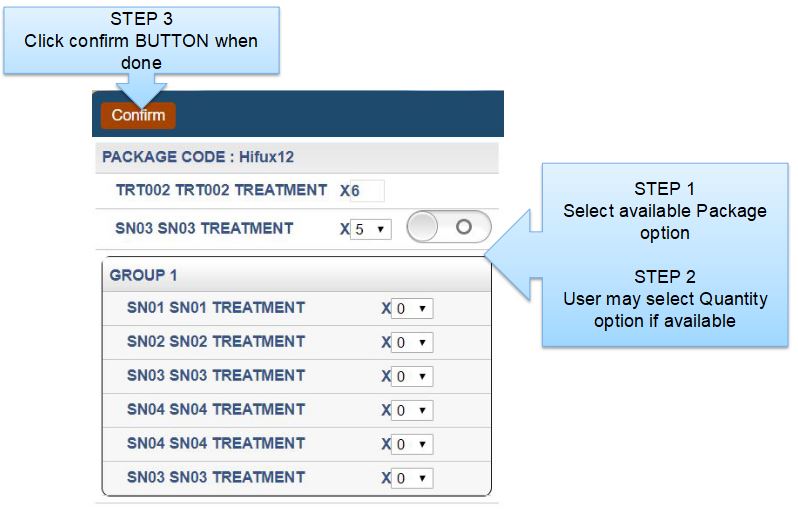 CUSTOMER SALES – POS – MIX & MATCH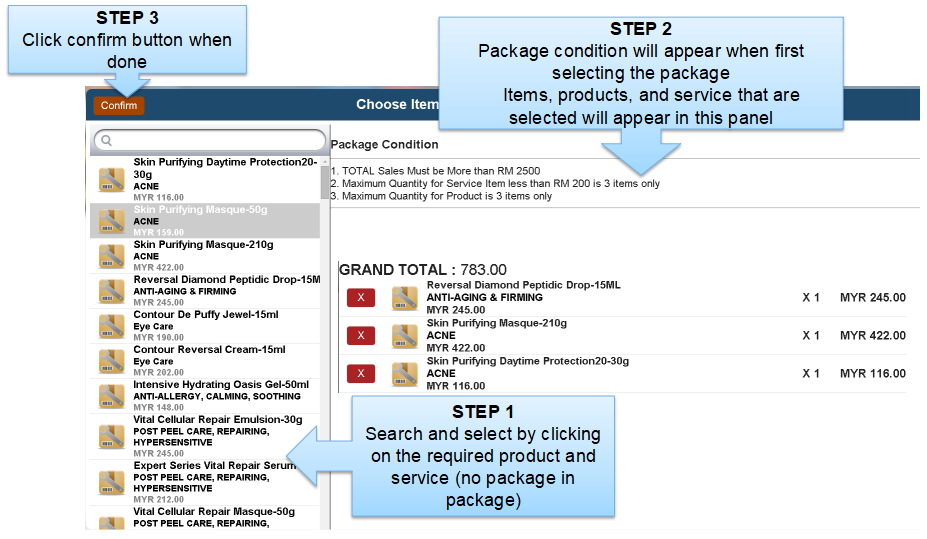 CUSTOMER SALES – POS – SELECT STAFF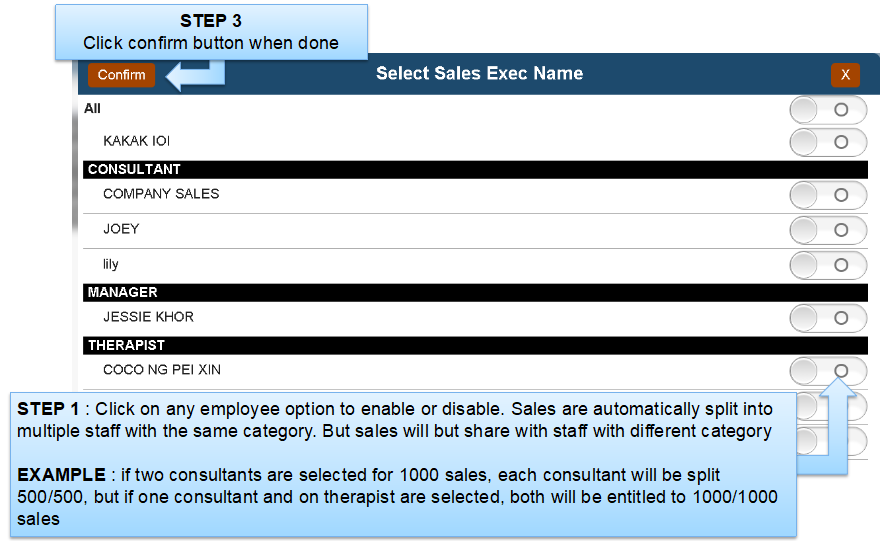 CUSTOMER SALES – POS – PAYMENT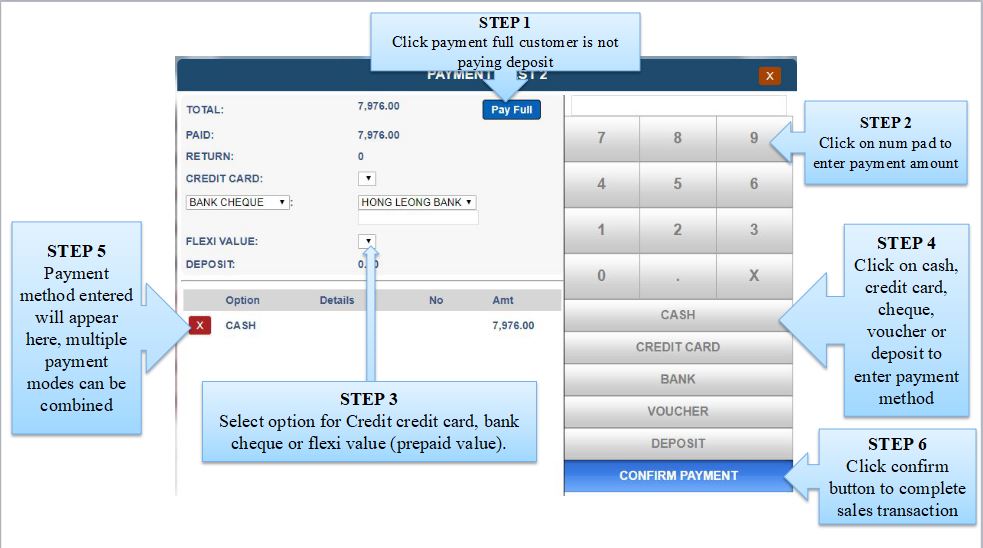 CUSTOMER SALES – POS – PRINT INVOICE

FOLLOW THE STEPS 
STEP 1: Click the print button (blue color) or hit the enter button on the keyboard, to print
STEP 2: Printing preview is available on the right panel of the display windows as shown
STEP 3: Hit the ESC button on the keyboard if you wish to cancel the printing sequence
STEP 4: You may change the margin, paper size and other printing option that is available on the printer.
STEP 5: Other settings such as printer settings, paper size, margin, header, and footer are local machine settings that our software do not have direct control.
CUSTOMER SALES – COLLECTION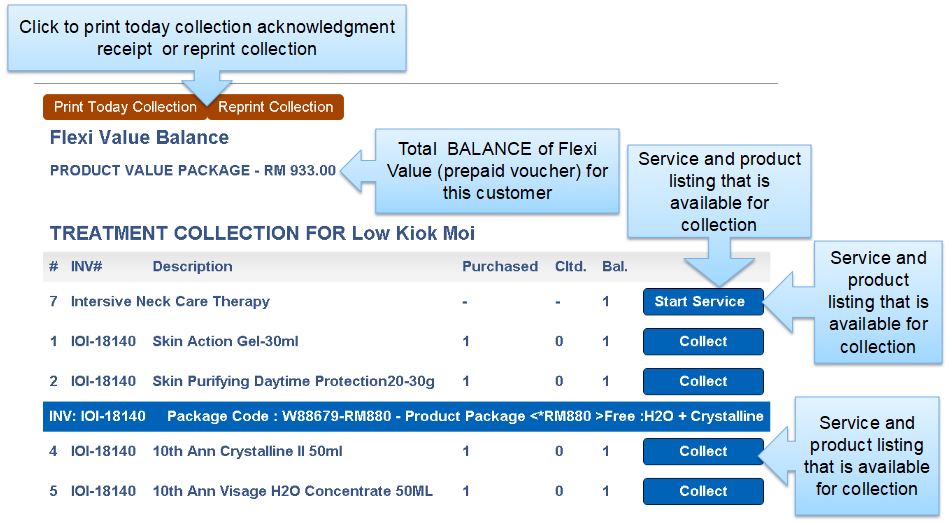 All services have been purchased in ala carte or package will be kept inside the collection screen until it is checked out by users to customer

All products that are purchased in ala carter will be checked out automatically by the system to the customer unless it is been KIV in POS

All products that are purchased in the package will be kept inside the collection screen until it is checked out by users to customer

Collection screen contains all remaining treatment/services and products a company "owe" to customer

All items listed here can be realized as differed sales in accounting terms

Print today collection and reprint collection can allow users to print out collection acknowledge receipt to signify customer collection in hardcopy and allow the customer to sign out it as collection proof.
CUSTOMER SALES – COLLECTION – START SERVICE
The commission does not split among therapist, that means there will be no 2 therapists working on the same processor or the same service steps

It is illogical both persons are working on the same process at the given time

It will be more advisable to add another service steps

The future version may allow more flexible commission amount depends on sales and other user-defined condition
CUSTOMER SALES – COLLECTION HISTORY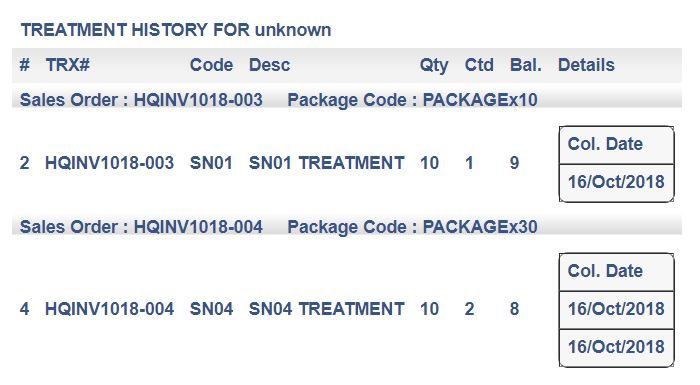 This interface shows all the collection history of this customer
CUSTOMER SALES – PAYMENT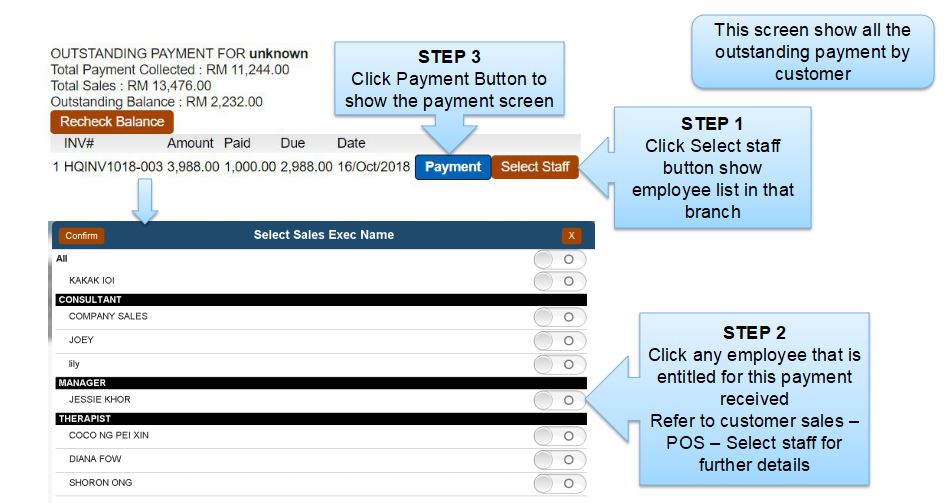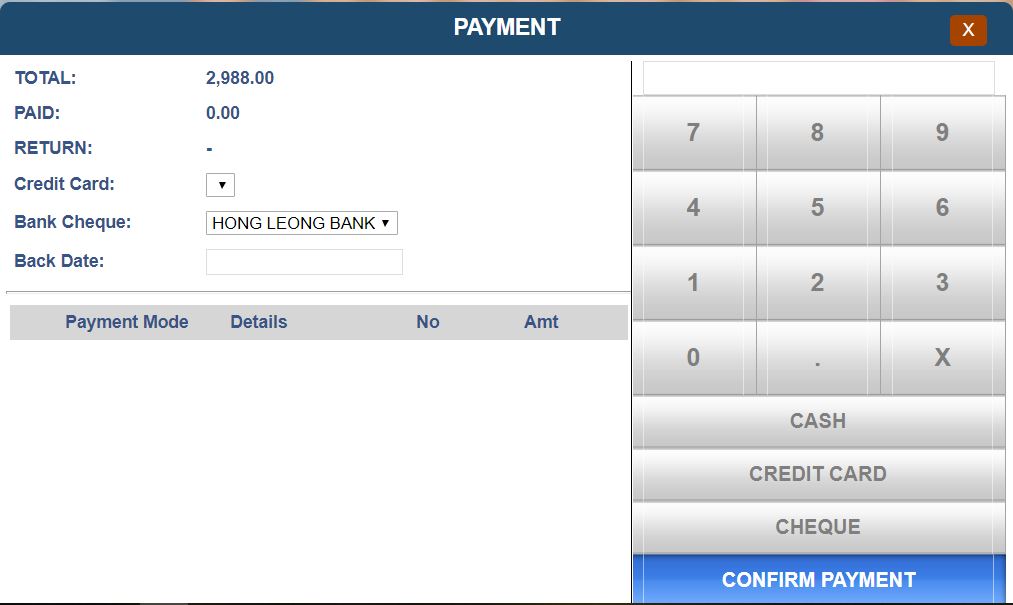 Refer to page 56 for payment instruction. Customer outstanding payment and POS Payment difference are as below:
There are only cash, credit card and cheque payment method for remaining payment. Prepaid value and deposit cannot be further utilize to pay.

The payment option here has a Back Date option that allow to backdate the payment, but only authorized users can perform that action
CUSTOMER SALES – PAYMENT HISTORY 

This user interface screen shows the payment history been made by the customer

Click on any payment history line to REPRINT the invoice

Printing old invoices that do not have Tax or GST will remain as Official receipt or invoice, while new invoices that have Tax or GST will have the title as Tax invoice or other related titles.

Printing sequence can refer to Customer sales -> POS -> print invoice section
CUSTOMER SALES – SALES ADJUSTMENT

Sales adjustment are used to backdate sales in situation that bulk back date is not suitable or approval is required by management with file attachment

Sales adjustment workflow and function is similar to POS function but with below difference
All sales are not committed when confirming until approved

All sales can be backdated

All products, services, and package which is expiry or not within validity date can be selected
SALES ADJUSTMENT APPROVAL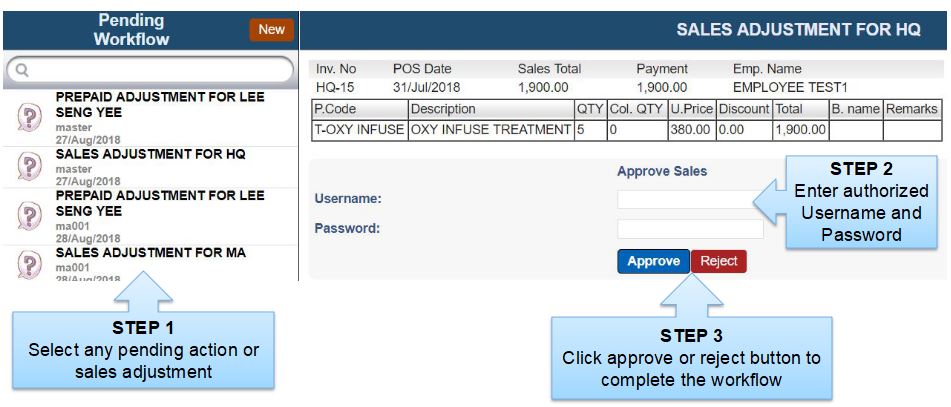 Sales adjustment or any related adjustment approve here will be finalized and committed into the system

Any rejected workflow or adjustment has to start from the beginning again, there will be no rework workflow process