Fixed Package
Fixed Package can be utilized in creation of promotion, bundling or even first trial or special price discount package. Such package is simple to create and maintain. The package might sometimes have options. This Kind of Package is very common even in Retail or FNB business, due to cash sales business.
Package with Service/product Group
This package allows customer to buy a group of service of product. For example, Premium Facial Category may consists of Moisturizing Facial, Whitening Facial and Lifting Facial. During Package purchase, the customer may buy 10x Premium Facial. At Redemption, customer can choose any 3 Facial inside Premium Facial Category.
Mix N Match Package
This Package allows sales staff to combine any allowed products and services into a package. The Package creation can have multiple rules and restriction. For example minimum purchase RM 2000 per mix and match. Or maximum 3 products with unit price <RM 200.
PWP Package
Also known as conditional package. Each package, product or service can only be activated or purchase when certain condition is met. For Example, only 2 anniversary package can be bought for each customer. Each anniversary package is entitled for another 2 PWP Package.
Advanced Package Builder
Package Builder was made with user experience at the forefront of its priorities. The way it is broken up into group, items, services and voucher, really allows you to understand and edit the structure of your package. Your editing controls are pulled out of the main database so that you get a clear and concise package component of how it fit into your package.

Simple Option Package
Package such as promotion with option, for example as below, during mother's day celebration, package with 1 compulsory Facial treatment and 3 optional product can be configured. This allows greater flexibility for sales staff to promote the package to customer. Different customer may have different requirement or skin sensitivity toward certain product, option must be given to customer
Group Option Package
The package can create dynamic and more complex grouping with options. Or even options item within grouping or nested grouping. This allows very dynamic package creation as below.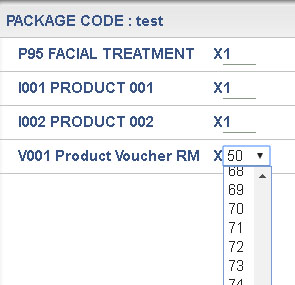 Product Voucher/Prepaid/Point bundle
Package Creation allows a Range of Free Product Voucher, Product point or prepaid value. This allows staff to have "bullet" to give special sales promotion to different customer. Most of manual practice allows any mix and match and does not have boundary or restriction toward free gift. But with this package configuration, organization can set a limit to free goodies while maintain flexibility in meeting customer requirement
Mix N Match/ PWP
Mix N Match and PWP can be controlled using Package Condition. The package condition is configured using object, attribute and filter defined using SQL statement. The definition will be carried out by back end API and certified users in order to map the object with precise and accurate SQL statement. By using this method, any condition such as PWP, restriction of package to customer, payment and etc. can be be configured easily.

Signup now to Enjoy above features
Join today and get access to Package Configurator, as well as our other countless features and functions!