PACKAGE DIRECTORY DEFINITION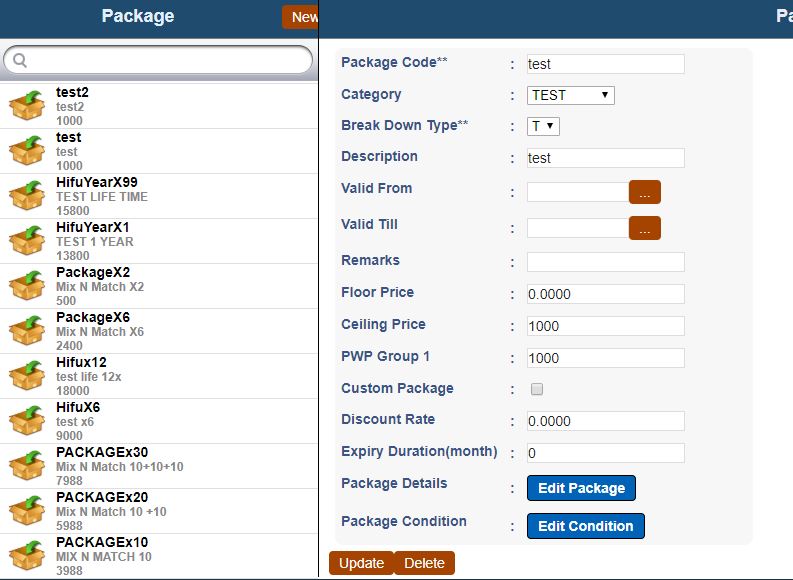 Package code: Code that identifies the package, must be unique.
Category: Data derived from package category data setup
Break Down Type: same as product, service breakdown type, used in the breakdown reports
Description: Package description that appears in POS and related interface
Valid From/ To: Validity date of the package. After the package is not valid it will not be displayed in the POS module, purchased package are still redeemable
Floor price/ceiling price: minimum and the maximum price of the package. This will affect the commission and other related employee KPI.
Custom Package: Is this package mix and match?
Discount Rate: Total discount given in mix and match package
PACKAGE DETAILS FORMULATION

 The button I, S, V, G will appear in every grouping.
 I = Item(product) that are defined in the product directory
 S = Services/treatment that is defined in the service directory
 V = Prepaid voucher that is defined in prepaid voucher listing
 G = Grouping. Multiple grouping can be created within grouping for complex package and configuration. Grouping does not take effect in Custom Package
Before creating a new package it is advisable to create a group, even you can create it without grouping.
PACKAGE FORMULATION – 2 

You notice that another GROUP is added.
REQ = required. A required Group or items are a MUST take the option in the package
PACKAGE FORMULATION – REQ AND OPTION

PACKAGE FORMULATION 3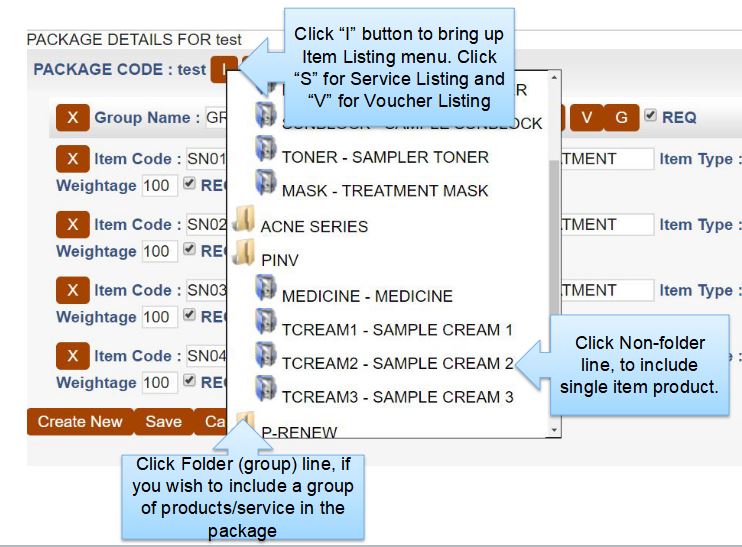 Difference between item and group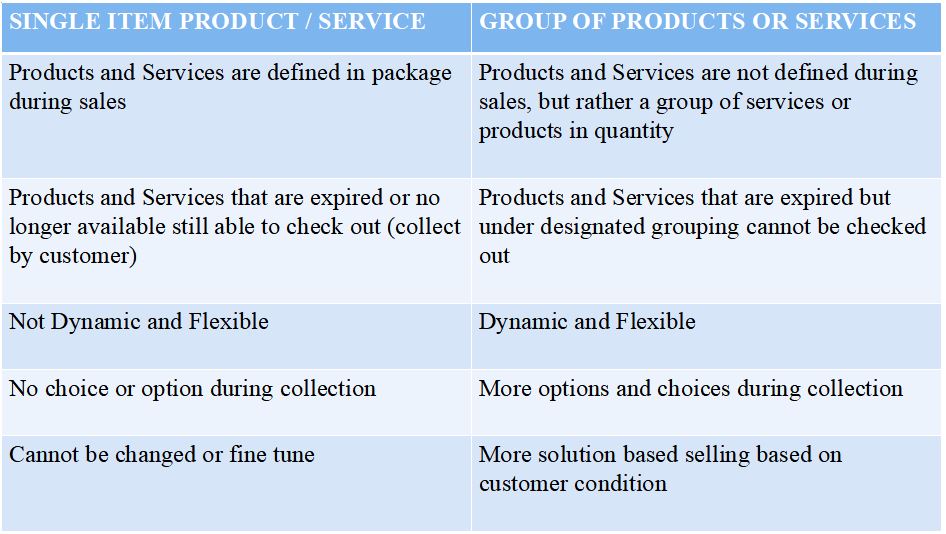 PACKAGE FORMULATION – MIN / MAX QTY

The reason behind minimum and maximum quantity
In a competitive market, the customer may be pricing sensitive or premium type customer, and there are also mid-range customer
Customer who is pricing sensitive may want a cheaper package, which users can adjust using floor price and ceiling price while reducing the number of free items in the package
Customer who is premium may not want the discount but they would be delighted if they are given more free items
PACKAGE FORMULATION – PREPAID VALUE

Prepaid value, such as product value (points), service/treatment or machine points can be added into the package as a form of "further" discount
Some membership offers Pay 500 with 800 points/value are the same concept.
But in package formulation, it is more dynamic and flexible, users can have a range of value, and also other products and services in the same package.
PACKAGE FORMULATION – WEIGHT-AGE
Weight-age will only be used in foreclose and perceive VS actual value and cost control in Collection
The weight-age sum of total items should be 100
Weight-age is calculated in percentage %
But most of the time weight-age is maintained as 0.
Accurate weight-age settings can allow good costing control and prevent the customer from checking out products or treatment that are more than their deposit payment
Weightage sometimes can be troublesome if it is not set correctly. Many users maintain weight-age at 0 and use human checking in foreclosing and collection